Model Boats Blog
Keep track of what's going on at www.building-model-boats.com by subscribing to the Building Model Boats Blog. Here you'll see the latest updates and additions to the site with the most recent addition first.
To subscribe to my model boats blog (no e-mail address necessary), RIGHT-click on the orange RSS button and then copy-and-paste the URL of this site's RSS feed into your RSS reader. OR...
Or click on the Google, My Yahoo!, My MSN, or Bloglnes button if you keep a personalized home page there. Follow their instructions.
LEFT-click the orange button if you are not sure what RSS and blogging is all about.
Once you start, you will be amazed at how RSS brings your world to you.
Jun 11, 2017
Jaws Orca - modified hull from RC Cabin Cruiser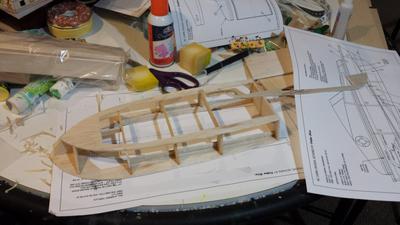 This is my first attempt at building a boat. I really liked the way RC cabin cruiser plan was designed in that it was simple and easy to put together.
Continue reading "Jaws Orca - modified hull from RC Cabin Cruiser"