Berrinche - 1970s style Sport Fisherman
by Bruno Martel
(Garmish-Partenkirchen, Bavaria, Germany)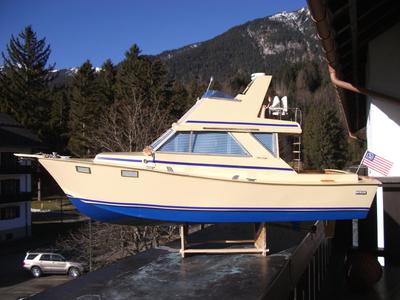 After completing my first boat ("Bon Vivant") depicted in this section, I moved along to other projects. My third and latest is "Berrinche". This time I opted for a bare-bones fiberglass hull I got from the UK. Inspired in 36, 42, and 45 feet Chris-Craft Commander boats from the 1970s and armed with many ideas from Petter, I came up with this boat which is now my joy and pride. These are Berrinche's specs:

1/20 scale model (inches): length 22.5 – beam 8
3-bladed 30mm M2 LH propeller
Drive shaft M2 8 inches
MTroniks 500 brushed motor
Speed controller 6-12V 320A W/2A BEc ESC
Battery NiMH 9.6v
9v LED lights (5)
Tactic 404 RC system

If in real life, this boat would be a 37.5 footer boat. As for the boat itself, it runs very nice as you may see in its first sea trial at https://www.youtube.com/watch?v=ieXA40s6upQ. With a single screw and with 9.6 volts, it can achieve realistically looking speeds in the water. I though about going with a Lipo battery, but no 9v lipos are being offered in the market. To me, 7v is too slow and 11v could be too fast for realism. Plus, the extra weight of the NiMH battery helps with the boat stability on the water plus these are cheaper.

Due to the lack of fittings in the market for this type of boat, including realistically looking seats, air vents and windlass, I got some custom made 3D-printed parts out of real life pictures made at a very affordable price from a supplier in Australia.

I'm so happy with it that I'm currently in the process of using the same type of hull for another boat, these time inspired in 1970s Bertram yachts. It will go with an MTroniks 400 brushed motor, which is lighter but achieve higher RPMs.