US Battleships
A list of US Battleships to help model boat builders find model plans and kits of US coastal, pre-dreadnought, WW1 and WW2 battleships.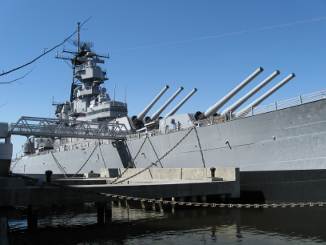 US Battleships are easier to keep track of than those from any other nation because of their unique hull number. As a result, ships with the same name can easily be told apart.
The US and its Navy was late to become a top-tier blue-water super power. War torn and scarred after the Civil War, the main focus was still on coastal and river monitors.
As several South American nations started acquiring armored ships, the US found itself trailing behind.
In 1883 the Brazilian Navy took delivery of the Battleship Riachuelo – a coastal pre-dreadnought of 5,029 tons and four nine-inch guns. All of a sudden Brazil had the most powerful navy in the Western Hemisphere.
The US responded with the experimental coastal defense Battleships USS Maine and USS Texas. This is the same approach the Imperial German Navy had gone through about two decades earlier.
The list of US Battleships end with the USS Wisconsin (BB-64), the last commissioned US Battleship. For reference, and to avoid gaps and confusion, the list includes the names and hull numbers of canceled ships as well.
The years listed refer to first year of commission.
---
Coastal Defense Battleships, 1895-1897
Second Class Battleships
USS Texas
Indiana Class
(BB-1) USS Indiana
(BB-2) USS Massachusetts
Iowa Class
(BB-4) USS Iowa
---
Kearsarge Class
(BB-5) USS Kearsarge
(BB-6) USS Kentucky
Illinois Class
(BB-7) USS Illinois
(BB-8) USS Alabama
(BB-9) USS Wisconsin
Maine Class
(BB-10) USS Maine
(BB-11) USS Missouri
(BB-12) USS Ohio
Virginia Class
(BB-13) USS Virginia
(BB-14) USS Nebraska
(BB-15) USS Georgia
(BB-16) USS New Jersey
(BB-17) USS Rhode Island
Connecticut Class
(BB-18) USS Connecticut
(BB-19) USS Louisiana
(BB-20) USS Vermont
(BB-21) USS Kansas
(BB-22) USS Minnesota
(BB-23) USS New Hampshire
Mississippi Class
(BB-24) USS Mississippi
(BB-25) USS Idaho
---
Dreadnought Battleships, 1910-1914
South Carolina Class
(BB-26) USS South Carolina
(BB-27) USS Michigan
Delaware Class
(BB-28) USS Delaware
(BB-29) USS North Dakota
Florida Class
(BB-30) USS Florida
(BB-31) USS Utah
Wyoming Class
(BB-32) USS Wyoming
(BB-33) USS Arkansas
New York Class
(BB-34) USS New York
(BB-35) USS Texas
---
Standard Type Battleships (Super-Dreadnoughts), 1916-1923
Nevada Class
(BB-36) USS Nevada
(BB-37) USS Oklahoma
Pennsylvania Class
(BB-38) USS Pennsylvania
New Mexico Class
(BB-40) USS New Mexico
(BB-41) USS Mississippi
(BB-42) USS Idaho
Tennessee Class
(BB-43) USS Tennessee
(BB-44) USS California
Colorado Class
(BB-45) USS Colorado
(BB-46) USS Maryland
(BB-47) USS Washington
(BB-48) USS West Virginia
South Dakota Class
(BB-49) USS South Dakota, canceled
(BB-50) USS Indiana, canceled
(BB-51) USS Montana, canceled
(BB-52) USS North Carolina, canceled
(BB-53) USS Iowa, canceled
(BB-54) USS Massachusetts, canceled
---
WWII, 1941-1944
North Carolina Class
(BB-55) USS North Carolina
(BB-56) USS Washington
South Dakota Class
(BB-57) USS South Dakota
(BB-58) USS Indiana
(BB-59) USS Massachusetts
(BB-60) USS Alabama
Iowa Class
(BB-61) USS Iowa
(BB-62) USS New Jersey
(BB-63) USS Missouri
(BB-64) USS Wisconsin
(BB-65) USS Illinois, canceled
(BB-66) USS Kentucky, canceled
Montana Class
(BB-67) USS Montana, canceled
(BB-68) USS Ohio, canceled
(BB-69) USS Maine, canceled
(BB-70) USS New Hampshire, canceled
(BB-71) USS Louisiana, canceled
---