Radio Controlled Boats
Radio controlled boats building tips. Simple solutions to many common questions surrounding home made RC boats.
Building radio controlled boats is a little more involved than building static model boats, but if you ask me, it's twice the fun. This page is a hub for articles that addresses some of the additional ingenuity that is required when building a model RC boat.
Scale RC boat in its right element!
Image courtesy of mrfraley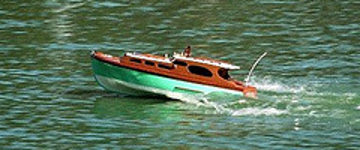 ---
RC Boat Plans
If you want to scratch build an RC boat, first thing to do is to get yourself a set of plans. I'm currently offering the following RC boat plans:
The fist of a series of plans are now released. The first one is an easy-to-build cabin cruiser. Follow the link above for more information about the plans. Build logs will follow promptly.
This is my version of the PT 109 - an Elco 80-foot PT boat from WW2. Follow the link above for more information.
---
When it comes to selecting an RC radio, there are a number of options including AM, FM, 2.4GHz, multifunction, pistol grip or stick etc. Follow the link above for more information.
One important note: don't ever use a radio frequency dedicated for airplanes for your radio controlled boat. It's against the law and you may be held liable for damages you cause from interference. It could be serious, life or death, so don't do it.

Learn more about servos (follow link above).
RC Boat Steering
RC Boat Propulsion
RC boat propellers
RC boat propellers come in many shapes for different purposes.
Material – plastic, bronze, brass or stainless steel
Mounting – threaded or with dog adapter
Pitch – medium pitch for scale models or high pitch for speed
Surface piercing or traditional
Number of blades – two, three, four or more
Direction – left or right
As with real sailboats, there is something extra cool about being powered solely by the wind. These model boats are equipped with one or more sail winch servos that control the sheets and one servo for steering. Many have drop-keels for added stability. Follow the link above for more info.
RC Scale Model Boat
RC scale model boats is probably the broadest radio controlled boats category. Popular subjects are tugboats, warships, pleasure crafts, fishing boats etc. Sometimes you'll see novelties like jet skis, hydrofoils and row boats.
People have different standards when it comes to scale. Usually within the radio control boats community, you are your hardest judge. If that is not enough, you can enter your model in national and international meets and competitions.
RC Power Boats
RC speedboat - hydroplane
Image courtesy of D'Arcy Norman
These suckers are fast. There are many kits available of Deep Vee, Hydroplanes, Tunnel hulls, Catamarans, Offshore racers, Water jet and stepped hulls.
If you are into radio controlled boat racing, there are numerous international classes based on hull form, size and engine.
Model Boat Engines
The most common IC model engines for fast radio controlled boats today are Nitro or Gas powered. Back in the days, and they seem to enjoy a little bit of a comeback are model diesel engines.
Nitro RC boats are powered by a glow engine. The fuel is a mixture of methanol, nitro-methane and oil. Different mix ratios are promoted for different purposes. Traditionally, the oil is castor oil.
Gas RC boats are powered by a small two-stroke gasoline engine. The fuel is a mix of gasoline (or petrol for those not in the USA) and two-stroke oil.
Small is a relative term, today's model gasoline engines for model boats are usually 26cc and up. In hobby terms, this is a big engine. Big engines need a big hull, so if your storage and transportation options are limited, you may need to consider Nitro or electric.

RC model warship combat
This is a form of war gaming where warship models are equipped with CO2 powered BB guns and shoot each other up. The hulls are skinned with a thin layer of balsa veneer to enable the BB's to penetrate the hulls with less power for safety reasons.
The radio controlled boats are also equipped with bilge pumps. At some point, if your ship takes enough hits, the capacity of your pump will be insufficient to stay afloat. At this point expect cheers from the opposing team. Get your swim trunks out.
Model Steam Boats
Steam power has its own following and the most dedicated builders make their own steam plants. Steam engines are not cheap, but definitely have their charm. When shopping for steam engines suitable for radio controlled boats, be sure to get one that is reversible. Another feature that is nice to have is a self starting design. To be self starting it requires at least two cylinders driving up the price further.
RC Boat Hulls
Buying a ready made RC boat hull and finish it yourself has some advantages. You'll save time compared to building the radio controlled boat hull from scratch. At the same time it costs less than building a kit. You'll also have the advantage of picking out all the components yourself.
RC model boat kits
There are a large number of RC model boat kits available on the market today. Just about all types of radio controlled boats come as a kit from somewhere. Some of the more well known manufacturers include:
Dumas
Midwest
Billing
Calder Craft
Dean's Marine
Kyosho
Graupner
Robbe
Pro Boat
---