RC Boat Plans
Download RC boat plans for your next project here.
These RC boat plans are meant for scratch building radio controlled boats mainly from balsa and with a minimum of tools required.
RC Cabin Cruiser
Skill level: Easy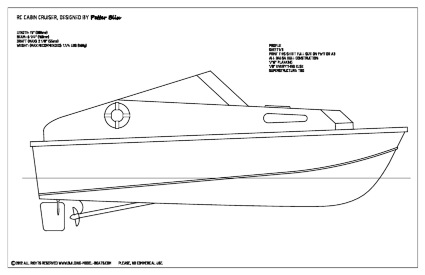 This RC boat plan is the first of a series I've decided to develop primarily with beginners in mind. To further lower the threshold to get into this amazing hobby I decided to lay the plan sheets out on regular office size paper. This should keep your printing cost to a minimum.
As a result the plan set is laid out on seven sheets total in PDF format. Five sheets are laid out 11x17 and two on 8 1/2x11. These sheets can also be printed on ISO size paper with no loss of information, just substitute A3 for 11x17, and A4 for 8 1/2x11. When printing ISO sizes, make sure to print the sheets "full size", as selected in your printer driver.
Picture below shows sheet two through four.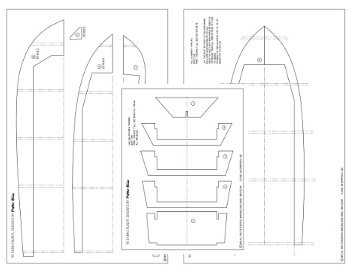 I'm currently in the process of writing build logs and instructions to help the novice and to clarify the intent of the plans. It's always difficult to convey all little nuances on the plans alone, although a lot is there and if you've built some models before, you may not really need much help. A list of the logs can be found at the bottom of this page as I complete them.
The hull design follows that of the PT 109 I developed earlier. From my own experience and the feedback I've received, it seems to be a very easy and straight-forward way to build with good results.
The seven-sheet plan set are available in a single zip file. They are as follows:
Sheet one (11x17): Layout profile and general arrangement
Sheet two (11x17): Miscellaneous hull templates (keel, deck etc)
Sheet three (8 1/2x11): Bulkhead and transom templates
Sheet four (11x17): Alignment aid for first stage of building the hull
Sheet five (11x17): Superstructure (cabin) layout and templates
Sheet six (11x17): Superstructure templates
Sheet seven (8 1/2x11):Template for windshield frame
Please order below.
RC Cabin Cruiser

Seven sheets semi-scale plan in a single zip file.

Price: $9.95
---
Elco PT 109
---
Build logs
RC Cabin Cruiser
Introduction - list of materials, scope of project etc.
RC Boat Hull - part one - starting hull construction
RC Boat Hull - part two - adding deck, keel and lower bulkheads
Planking - sanding and planking the RC boat hull
RC Boat Motor Mount - some tips about motor installation
Finishing up the hull - adding rub and spray rail, hatch coaming etc
More to follow.
PT 109
A complete list of PT 109 build logs is available (click the link).
---
Return to Model Boat Plans Store