Plastic Model Ships
Looking for plastic model ships? Here is a list of the most important manufacturers and their specialties: Tamiya, Hasegawa, Academy, Italeri, Trumpeter, Heller, Airfix, Revell, Bronco, Lindberg etc.
Plastic model ships are not all created equal. Here is what sets the best kits apart from the rest:
Part of my current pile of plastic model ships. Most were found on ebay.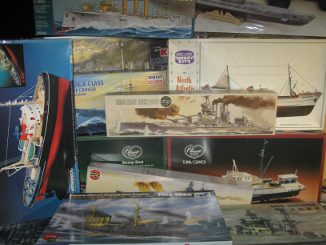 Historical Accuracy
Historical accuracy stems from good research and attention to detail. The importance of historical accuracy has shifted over the years. The bar has been raised significantly.
Scale Accuracy
Some kits are off in scale, but otherwise good quality. This is more noticeable the larger the scale.
Level of detail
Level of detail is not just including details, but placing them right. Many details are not reproduced well at a small scale, so are best left out. This is one of those things that are hard to pin point, but becomes an eye sore when done poorly.
Texture
What part should be shiny and what looks better matte? Should deck planks be shown on a 1:700 scale battleship? Again, easy to tell when its done poorly.
Unusual Plastic Model Ships
So why would anyone ever buy an old or dated kit? Well, many times there are not a lot of choices. A good example are the age old USS Olympia kits.
These kits have been around for almost half a century and go in and out of production every so often. They're old and inaccurate and to pretty awkward scales, but still the only kits of a late 19th century cruiser.
If, on the other hand, I'm looking for the German Battleship Bismarck, just about every maker has its own version of it. Now I have the luxury to choose the scale and level of quality I'm interested in and willing to pay for.
---
Types of Plastic Model Ships
Just about all types of ships are represented as model kits. Here are a few large categories:
Pirate Ship Model Kits
Submarines
Carriers
WW1 Warships
WW2 Warships
Post WW2 Warships
Civilian Ships
Civilian Work Boats and pleasure Craft
---
Buying Plastic Model Ships
I typically check ebay before anything if I'm looking for a plastic model kit, whether it's old or new. It pays to shop around though. Sometimes the exact same kit can be found on places like Amazon at a much lower price, so shop around.
Ebay is also a good place to start if you are shopping for a particular kit. I've bought a lot of out-of-production kits there at reasonable prices and I've also found currently in-production-kits at bargain basement prices.
---
Plastic Model Ship Manufacturers
Here is a list of the most important manufacturers of good plastic ship models. I've tried to hi-lite each with their specialty to make the list more useful. Click the links for more information.
Tamiya - Japan
Tamiya is recognized for their attention to detail on their models and exceptional fit. Their models usually goes together much easier than most other manufacturers.
Academy Plastic Model - Korea
Academy is also considered a quality brand. They offer several sailing ships, warships passenger liners etc. Among the most well known is their RMS Titanic offered in two scales.
Hasegawa - Japan
Hasegawa also holds a very high standard on their kits. They may not have the precision of assembly as Tamiya has been known for, but offer good value none the less. They were one of the first plastic model kit manufacturers to offer photo-etched brass fittings and details.
One very well received kit by Hasegawa, of excellent quality is the Pre-Dreadnought Battleship Mikasa.
Aoshima - Japan
Aoshima Bunka Kyozai is a lesser known Japanese model kit manufacturer. They make plastic kits and die-cast ships for collectors.
Trumpeter - China
Trumpeter doesn't have the excellent accuracy and detail reputation of Tamiya and Hasegawa, but doesn't cost quite as much either. One amazing Trumpeter kit is their 1:200 scale USS Arizona model.
Bronco Models - China
Bronco is a relatively young and aggressive company on the plastic kit scene. They are a refreshing in the sense that they are continually releasing new products a lot faster than the established American and European competitors. In general they offer better fit and accuracy than Trumpeter, but not quite to the Japanese standard.
Revell - Monogram - USA
Revell - Monogram can trace its roots back to the mid 1950's. Their quality is spotty by today's standard. Largely because some of the models offered were originally introduced in the 1960's. Not only are many of the designs dated, but tooling wear makes for a lot of flash, poor fit and so fourth.
Many of their subjects are not available elsewhere and the price is decent, so their kits seems to be selling quite well, all things considered.
Revell Germany
Revell Germany is today independent of it's American namesake. They used to be the same company but started developing their own kits, independent of Revell USA, in the 1970's. They are often seen as more detailed than their US cousins.
Airfix - UK
I grew up with Airfix, and have fond memories flipping through their catalogs before bedtime as a kid. Not the most sophisticated, but their unique offering has its appeal. Their line of products include some attractive historic sailing ships.
Heller - France
Heller has a lot of similarities to Airfix, and were in fact owned by the same company until recently. Both have served a mainly European customer base, and it shows in their offering. As with Airfix, they are maybe most famous for their historic sailing ship models.
Lindberg - USA
Lindberg kits are some of the crudest and least historically accurate kits. That doesn't mean they are worthless. For one thing, that in itself has its charm, but more importantly, there are some model subjects that are unique to their line.
For instance, the 1:32 scale PT 109 model and the "Blue Devil" Destroyer are relatively easy RC conversions.
Lindberg also has the largest selection of pirate ship model kits.
Italeri - Italy
Italeri has its strength in WW2 military models in 1:72 and 1:35 scale. They are now taking the lead in highly accurate PT boats, Motor Torpedo Boats, MAS, mini submarines and landing craft. In fact, the number of new kits recently developed is unsurpassed other than by the Chinese manufacturers.
They are also offering the Higgins Boat (LCVP) and LCM landing craft. These are the best kits of these subjects so far. This is a smart move by Italeri, as they go very well with their military kits and figures in 1:35 and 1:72 scale.

Maquette, Alanger, ICM, Eastern Express, Zvezda - Russia and Ukraine
Several kits are reaching the west from manufacturers in the former Soviet Union. These plastic model ships are of varying quality, but often of rarely seen subjects, and often at reasonable cost. So, all in all, well worth considering.
---
---