Bertram 38 Convertible - inspired "Dirty Deeds"
by Bruno
(Germany)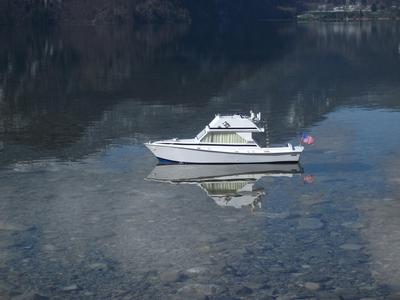 Right after finishing up my previous vessel "Berrinche", I embarked in this project in preparation to this boating season. I love old Bertram yachts and especially those of the 1970s when Bertrams were the standard followed by other manufacturers. I particularly like the stylish lines of the 33 to 46 footer Bertrams. Being just neglected in the scale modeling world, it is just impossible to find an Bertram RC scale model to play with if you don't want to spend several grands. So I took justice in my hands and developed what you see here. Using the same type of hull as I did for "Berrinche" I came up with this. As with "Berrinche", many fittings like the seats, docking lights, navigation lights, hatch, vents and others were made on a 3D printer by an extremely talented friend in Australia. It took me nearly 155 hours (about 3 months) to complete. Specs are:

Speed controller 6-12V 320A W/2A BEc ESC
1/20 scale model (inches): length 22.5 – beam 8
4-bladed 25mm M2 LH bronze propeller
Drive shaft M2 8 inches
MTroniks 500 brushed motor
Battery NiMH 9.6v
9v LED lights (6)
Tactic 404 RC system

I'm planning to upgrade the battery to a 12v NiHM packet with a matching 77.2-16V speed controller. I decided against lipo batteries since these are too demanding in terms of maintenance, safety and overall cost.

You may see it on video at https://youtu.be/LR_gnepJ11o.