Bridgedeck Cruiser -The Lady Alice
by Lynn Leaich
(Loves Park, Il.)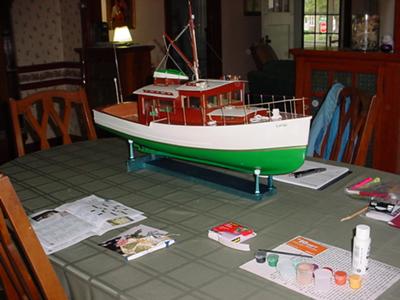 After months of looking around and not finding what I'd like to build, but finding pictures of old cabin cruisers (circa 1920-1930) and a fiberglass hull from New Brunswick, Canada, that I could convert, I began work on my own design, kind of a cross between a lobster boat and a bridgedeck cruiser.

With modifications to a fiberglass hull and a mental picture of the final scratch built entity, I spent almost three months, working as little as a half an hour and as much as seven hours in a day to bring her to where she is today.

She sports a 4-channel r/c system, which controls speed from a home-built speed control, for forward and reverse movement, steering, internal cabin lights and external running lights, all controlled by the transmitter.

The dinghy was a full size set of plans from the internet, when downloaded, printed out to the exact size I needed.

The Lady Alice has a crew of three and the cabin sports a camper like bed/dinette, a sink/stove/cabinet combo, swiveling boatswain's chair and helm. There is also a hatch to the forward sleeping quarters next to the helm. She also has a floating life ring and four floating fenders.