Building or Buying
Model RC PT Boats?
Looking for RC PT boats? Here is a run-down of your options: RTR and ARTR from Pro Boat and Graupner – plastic kits from Lindberg, Italeri and a wooden kits from Dumas – or maybe plans for scratch building?
Recently I was looking for RC PT boats and started mapping out the market to see what my options were. Having fond memories from the old Lindberg PT 109 as a teenager, I was excited to see what's happened in the last 25 years. Here is a run-down of what I found.
An RC PT boat on the water.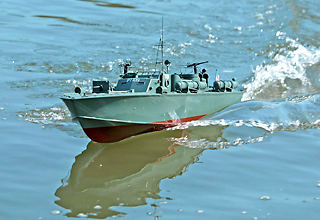 RTR and ARR RC PT Boats
ARR stands for Almost-Ready-To-Run. For ARR models, the model is assembled, but you typically need to provide radio, ESC (electronic speed controller), battery, charger and miscellaneous items.
RTR stands for Ready-To-Run. You would think that everything you need is included and installed. Not so. Generally you need to provide the battery pack and associated charger. You will also need a solder iron and CA glue.
In both cases it seems there is always at least a few hours up to a couple of night's worth of assembly and tweaking.
Graupner PT 109 (ARR)
Graupner is a well-known German brand that's been around for a long time and is highly regarded for their excellent quality. They currently offer the famous PT-109 Elco 80-foot PT boat.
This model is in 1:30 scale, so comes out to 810mm (about 32") and 1.6kg (3.5lb). This is a convenient size for transportation and storage.
This model comes with a fiber glass hull, which is nice. It makes for a solid and sturdy, yet light weight hull with ample space inside.
It is propelled by two counter rotating direct-drive 600-size motors. This arrangement is not scale, but works well. One benefit is that the boat handles better and is less jerky when you hit the 'gas'. For the curious, the real PT boats had three props – all rotating in the same direction.
The assembly that is required is essentially to install the stuff not provided. So solder battery connection, install rudder servo and ESC. It shouldn't take more than a couple of nights.
The Graupner PT 109 is not cheap. The price seems to vary with the EURO exchange rate, but I've seen it as low as $400.00 not including shipping and tax. Add to that radio, ESC, battery and charger unless you already have the gear.
Pro Boat PT 109 (RTR)
The Pro Boat PT boat is a big kit at 1:24 scale, bringing the length to just over 1m (about 40") and weight to a little over 3kg (6lbs). It comes with a fiberglass hull and two water cooled 550-size motors.
The selling price from most online retailers is $470 to $500 not including tax and shipping. This is a pretty good deal if you are in a hurry to get into the water.
"No Name Brand" RC PT Boats on Ebay
There are several RC PT boats that sell on Ebay regularly. They are probably made in China, but so are most likely the ProBoat and Graupner. If anything, make sure the seller appears responsible, as judged when reviewing his/her feedback.
---
Converting Plastic Kits to RC PT Boats
Lindberg PT-109 Elco 80-foot PT boat
This kit is discontinued, but every once in a while a new "limited edition" seems to seep out. This kit is crude by today's standards for a plastic kit. As an RC PT boat it still works in my opinion – if you can muster the ever increasing cost – they currently run around $100 plus shipping on Amazon.com.
1:32 scale PT 109 by Lindberg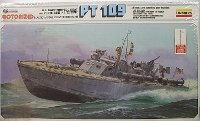 The nice thing about the kit is the deck access hatch is already there, with 1/4-turn fasteners and all. Up close you can see the hatch, but typically not when the boat is in the water.
I'm not sure, but it seems that the kit has been issued with different motor options. The kit I built and converted in the 80's had a puny motor and plastic gears to drive two props.
The gears and motors were grossly undersized and the boat wouldn't plane. The running hardware was also more or less useless. It was a sad sight on the water, almost like watching a wounded animal.
I've heard of another version with a dual motor setup. From what I understand, this is a much more satisfying setup.
As I recall, I had issues with keeping the weight down due to the plastic – it's pretty heavy, and not a whole lot you can do about it aside from using a brushless electric motor.
Italeri PT 596
This kit came out just a few years ago and the plastic kit builders rave about the detail and quality. As we've grown used to with kits these days, it comes with photo etched brass parts.
The scale is 1:35 - possibly the most popular scale among military model builders. Keep in mind, this hull is somewhat smaller than the Lindberg, so extra attention to weight may be necessary. Could this be a contender for brushless electric motors maybe?
For many RC boat builders the additional detail over the Lindberg kit may not be as appreciated as if built as a static model or diorama. I find it frustrating sometimes when running the boats, having those precious details fall off.
Hull access also needs to be worked out. I have not built the model myself, but it appears you need to improvise in this regard.
This kit can be purchased for about $150 plus shipping. As noted earlier, no motors, hardware or controls included.
---
Wood/ABS kit
Dumas PT-212 – Higgins 78-foot PT boat
This is the only Higgins RC PT boat kit that I know of. In a way it's a refreshing break from all the Elco PT-109s out there.
This kit is 1:30 scale, which puts it at 775mm (about 30 1/2 inches). This is a brand new kit from Dumas as of May 2010. The kit comes with a vacuum formed hull and laser-cut and die-cut parts. Why they still insist on the latter is to me a mystery.
This kit doesn't come with running hardware, motors, controls etc.
The price for the kit is $190 (not including tax and shipping). Add to that another $51.00 for running hardware and motor. Before you're done you still need a radio, esc, battery and charger plus glue, paint and any tools you don't have.
I estimate all total to be in the $350 to $400 range, just to give you an idea.
Wooden kit RC PT Boats
Dumas PT 109 – Elco 80-foot PT boat
This kit is 1:30 scale, so should come out the same size as the Graupner. It is a traditional die-cut wooden kit. Die-cut wooden kits were popular when dinosaurs walked the earth and have been replaced by laser-cutting for the last 20 years or so.
The issue with die-cut kits is that precision suffers, so more tweaking and fiddling to get parts to fit is necessary. Lately Dumas have improved the quality of the deck details, which is a plus.
The kit does not include any running hardware, motors or controls. Don't forget to consider this for a side-by-side price comparison.
The selling price for the kit is around $175.00 not including tax and shipping.
---
Scratch Building an RC PT Boat From Plans
Elco 80-foot PT boat plan - general arrangements.
Most definitely the least expensive option is to scratch build your RC PT boat. I have the semi-scale PT 109 plan shown above for sale at a very reasonable price. Just follow the link.
---