Wave Runner - RC CRUISER
by Anshul Wadia
(Bilimora, Gujarat, India)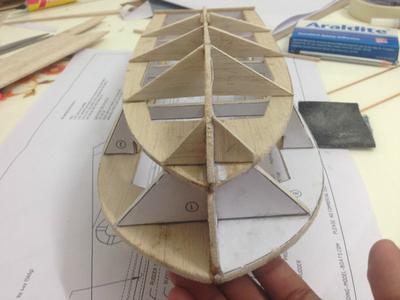 Hello mates,
I always dreamed of making a model boat myself. And i'm sure you have got too...so lets get started here.
To begin with I'd like to thank Petter Sir for his excellent support through his website.

This is a RC model of a Cruiser boat.

Made up of only Balsa wood with variable thickness.
Preferred adhesive - Araldite

I will brief you about how I constructed this model

The building detail of every step is numbered below.(Please Refer The Pictures)

1. Cut out the Stem, Bulkheads, Deck, Keel, Transom and Stiffeners for assembly.

2. Form the lower bulkheads by joining a line from the keel to the deck edge. It is preferred that we fair this flat/straight bulkheads with slight arc. a batten can be used to mark on the other piece of wood and cut paste it on the bottom bulkhead for better finesse.
Good job we have completed the internal structure. Lets proceed to the planking

3. Planking need special attention and accurate measurements.
And so far we must have had experienced that balsa wood can easily break over some amount of stress.
Therefore i have added an extra bottom bulkhead between 1 and 2 for better planking by parts.

4. Clips can be use for better planking hold. And it is preferred that we plank the bottom at last.

5. Propeller shaft tube and Rudder shaft must be properly aligned vertically. Use M-seal to make the hull watertight.

6. Apply wood primer and paint for better finish and look.

7. Superstructure is built as temporary so it is easily removed for easy maintenance of the electronics inside.

8. This particular boat is light in weight and can handle speed very well.

9. We are free to use our innovative minds for better performance.

10. For details regarding the RC equipment or the structure, Kindly email for any Q&A

Enjoy building boats.