US Navy Patrol Torpedo Boats
Three different companies manufactured patrol torpedo boats during WW2. Learn the difference between the Elco, Higgins and Huckins PT boats.
There were three principal manufacturers that have their names associated with Patrol Torpedo Boats of WW2. Here is a more detailed description of each one:
Elco (Electric Launch Company)
By the time WW2 broke out, Elco was an established manufacturer of motor pleasure boats, and especially motor cabin cruisers. Over the course of the war, Elco designed and built three types of Patrol Torpedo boats for the US Navy, of 70, 77 and 80ft length respectively.
Elco 70ft
Elco bought a British 70ft MTB with the understanding to rework it to fit the US Navy specification and build them under license. The purchased motor torpedo boat became PT 9. After initial trials, some changes were made before production, such as motors changed from three Rolls-Royce Merlins to three newly developed 1200 hp Packard engines.
Hull numbers: PT 10 – 19. They were transferred to British service in 1941 and were renumbered MTB no. 259 – 268.
Elco 77ft
Hull numbers PT 20 - 68. These boats saw service in Pearl Harbor during the attack by the Japanese on December 7, 1941. Another squadron stationed in the Philippines was attacked three days later. The same squadron enabled the evacuation of General McArthur and his entourage from Corregidor on March 12, 1942. Ten of the Elco 77ft Pt boats went into British service in 1942.
Elco 80ft
This is the design most people associate with Patrol Torpedo boats - and for a good reason. The Elco 80ft design was designed in more numbers than any other.
The design evolved through the war and many field alterations were made. PT 109 is the most famous example of an 80ft Elco. Take a look at the semi-scale PT-109 that is being built here.
Higgins Industries Boatworks
Higgins Industries got started in 1930 and was located in New Orleans. Their specialty was shallow draft boats especially adapted for the conditions in the bayous characteristic to the area.
As war broke out production quickly switched to small crafts for the armed forces. Higgins manufactured 20,094 boats for the war efforts, most of which were landing crafts. Only 199 Higgins Pt boats were produced.
Higgins 78 ft
PT-658 - A restored Higgins 78-footer.
Image courtesy of DanMS.
The 78ft PT boat, by Higgins had the same beam and displacement, and shared most vital parts with the Elco 80ft PT boats.
Higgins Hellcat
The Higgins Hellcat was a stepped-hull design for greater speed, at the price of higher fuel consumption and shorter range. The design was never taken into service.
Huckins Yacht Works
Huckins was a considerably smaller company than either Elco and Higgins. Their design was also seen as inferior to the other two, being slower and difficult handling.
Huckins 78 ft
None of the 18 PT boats delivered to the USN by Huckins saw combat, but was assigned home defense and training duties. They were criticized for poor sea-keeping abilities.
A profile sketch of the Huckins 78ft Patrol Torpedo Boat.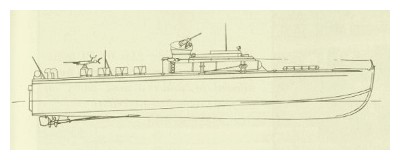 In general the Huckins design is a dark horse that few seem to know much about. I've had a hard time coming up with either plans or pictures.
PT-109 and Other Famous PT's
PT 109
The most famous, without a doubt is the PT 109 from WW2 commanded by LTJG John F. Kennedy. This is the same man that was to become the 35th president of the United States.
PT 41
PT41 was an Elco 77 footer commanded by Lieutenant John D. Bulkeley who famously evacuated General Douglas MacArthur and entourage on 12 March 1942 to avoid Japanese capture.
PT 658
This boat was lovingly restored to original running (and armed) condition by a group of ex-PT boaters. The boat is of Higgins design and was delivered July 30, 1945.
The end of the war meant PT 658 never saw action during ww2, but ended up in home waters. She's got her original three 1,500 horsepower Packard V12 engines.
---